Are you ready for a fantastic Kayak Adventure on the Island of Aruba? Come and Book our Kayak Tour and Discover the untouched coral reefs of Savaneta Aruba with our Kayak Adventure Tour. Book Now
Private Mangrove kayak and Snorkelling + Lunch
No events available
We were unable to redeem you gift voucher, the date and time you have selected are not available any more. Please chose another date and time.
Private Mangrove kayak and Snorkelling + Lunch
Admin notice: please enable gifts for product P6 in TuriTop admin panel

Available
Sold-out
Unavailable
Call for availability
Description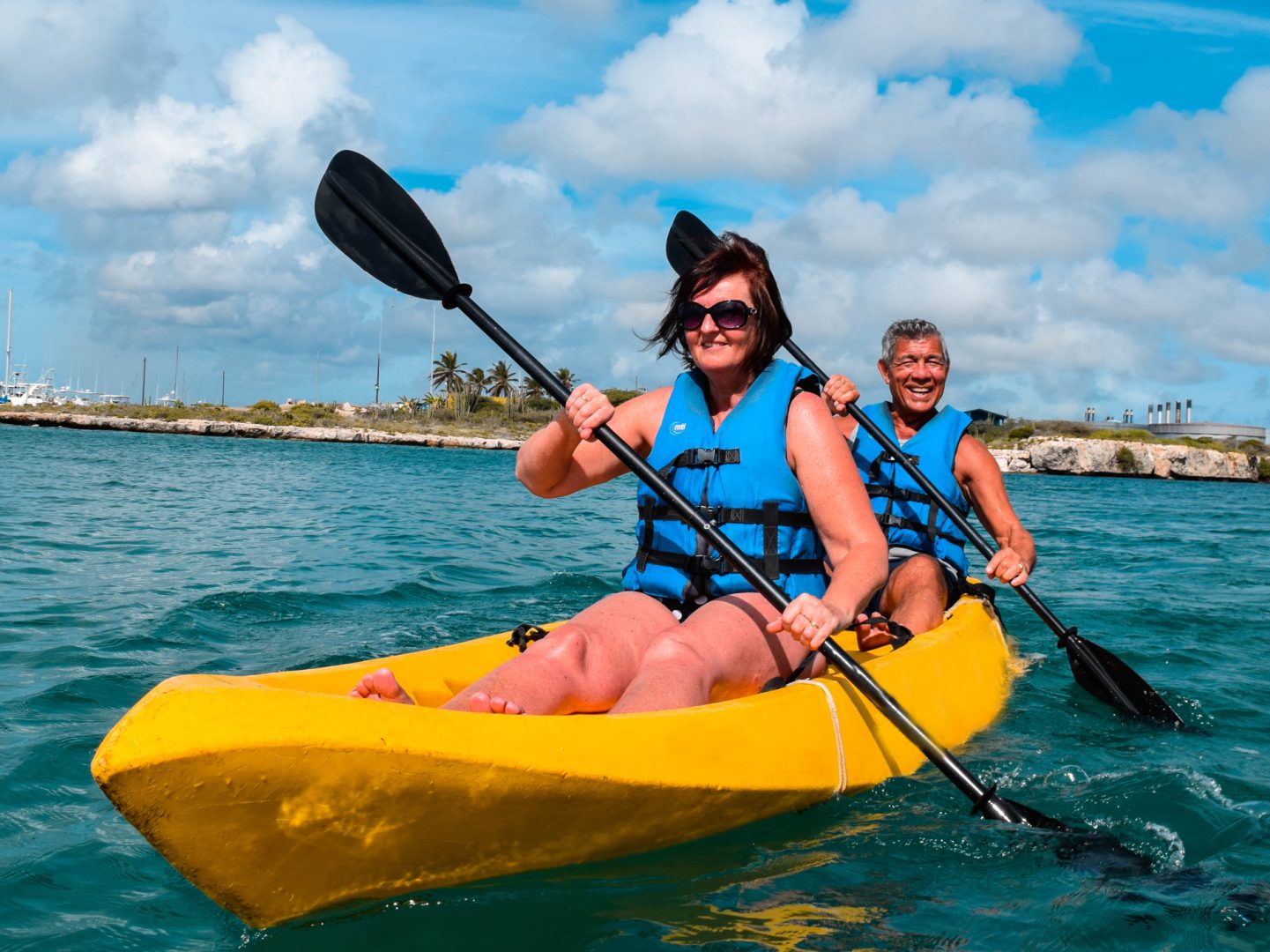 Adults US$175 – Children US$120
(7 – 12 years)
Pick a Date & Book Now
TuriTop Calendar
Private Mangrove kayak and snorkeling + Lunch
Welcome to the Adventure at the only Largest Mangrove area in Aruba at Pos Chiquito and the Famous Spanish Lagoon, where you will be taken for a kayak Adventure and Snorkeling with Lunch included.
Kayak Tour Departure
Because the kayak tour lasts the better part of a day, there is only one-morning departure each day of the week except Sunday.
SCHEDULE
What is Included:
+ Private Kayak Tour Guide
+ Snorkeling Gear
+ Transportation
+ Fruits & Water
+ Ocean Kayaks
+ Local Lunch Included
Frequently Ask Questions
What is your cancelation Policy?
– COVID POSITIVE, in case of the result a COVID Positive before the activity 100% refund is possible, this needs to be informed with a positive COVID result by E-mailing with your full name any time prior to the date/ time of the activity to our info@arubaeco.com
– 100% refund is always possible if we are informed 24 hours before the activity.
– No refund is possible within 24 hours before the activity date time. You can find more information on the following  page https://arubawavedancer.com/terms-and-conditions/
Les than 2 hours, the total time you will be at sea between stops, snorkeling, and kayaking will be between 2 / 2.5 Hours. This does not mean you are only kayaking for the total time. There will be many moments of relax and snorkeling in between.
What difficulty level and recommendations?
Moderate, this is a moderate outdoor activity. Depending on the sea condition, it might be more easy or a bit more difficult. You are recommended to be on a normal healthy condition. You are recommended to take your own towel after kayaking back at the shore.
Itinerary
8:00 AM

Pick-ups at resorts and hotels, to our kayak tour launch area in Mangel Halto at Pos Chiquito Aruba
8:30 AM

Equipment distribution (paddle and life jacket), safety procedures, instructions for operating the kayaks.
9:30 AM

Paddle from Mangel Halto Beach to Snorkeling coral reef area
11:00 AM

Paddle from the reef beach area to the Spanish Lagoon mangrove area and back to Mangle Halto
11:30 AM

End of the kayak and Lunch at Ricardo's restaurant
12:00 AM

Drive back to Hotel or resort / Airbnb. Drop-Off 
Private Mangrove kayak and Snorkelling + Lunch Overview
Spanish Lagoon Location:
The starting point for your kayak tour is located on the banks of the Spanish Lagoon. Not far from the site of Aruba's first historic capital "Savaneta." This area was the first large trading port established during Dutch colonization in the early 1600's.
Some believe that during the Spanish occupation, all three ABC islands (Aruba, Bonaire, and Curaçao) belonged to Venezuela. While the Spanish base was in Coro, the shortest route to Aruba would end in Savaneta. This is where the Dutch Commander resided and keep track of all trades, making it an important area during that time.
Aruba Kayak Site Location History:
The Spanish Lagoon has its own historical background. Many believe it served as a well-hidden port for the infamous pirates of the Caribbean. The lagoon is thickly lined with Red Mangrove trees. This is the most common species of the mangrove trees found in the Savaneta area Aruba. They are easily be identified by their dense network of roots, that provides the tree with support and protection. Often extending directly down into the water.
These mangroves serve as a nursery for juvenile marine life and is important resource for the local fisheries.  Because Aruba is mostly made of limestone, which is highly soluble and therefore vulnerable to coastal erosion. These trees end up protecting the islands sandy coastal areas.
SAFETY
Release forms must be filled out by each participant.
RESTRICTIONS
Please note that this tour is physically active and general good health is necessary.
Under 12 years of age must be accompanied by an adult on a two-seater kayak.
10 years of age and up can choose either a one-seater or two-seater kayak.
CAPACITY
Maximum capacity of 7 participants.
Reservations are required.
WHAT TO BRING
Wear bathing suit.
Sneakers or shoes that can get wet
Tee shirt or cover up
Towel
Waterproof camera
Excursion Size

Private Tour
Excursion Type

Nature, Scenic, Physical, adventure, swimming, Ocean
Excursion Duration

4-5 hours incl. The Total Experience
Pickup Time

8:00 am
Activity Level

All Level
Excursion Departure Point

Mangel Halto, Savaneta Aruba
Food/Beverage Provided

Fruits & water during the tour & Lunch at our favorite restaurant
Non-alcoholic beverages

Are included at During the tour
Recommended Dress

Swimweare , comfortable shorts or water shoes, a t-shirt, a camera, a hat is optional. Please bring your Sunscreen – coral reef safe.
Restrictions

This tour is physically active and general good health/condition is necessary. Children ages 6 and under cannot participate ( except for a previous approval by our Guide – Call us direct). This tour is not wheelchair accessible.
Book this exciting tour now!
TuriTop Calendar
Location
Related Products