Whether it's kayaking across sparkling ocean waters, snorkeling the reef, scuba diving to explore underwater seascapes, or sailing around the island in a multi-hulled yacht. Aruba kayak adventure invites you to come have an adventure with us!  BOOK NOW
Choose Your Adventure!
Tour Packages
THE PLACES YOU'LL GO!
Aruba Kayak Adventure Route Map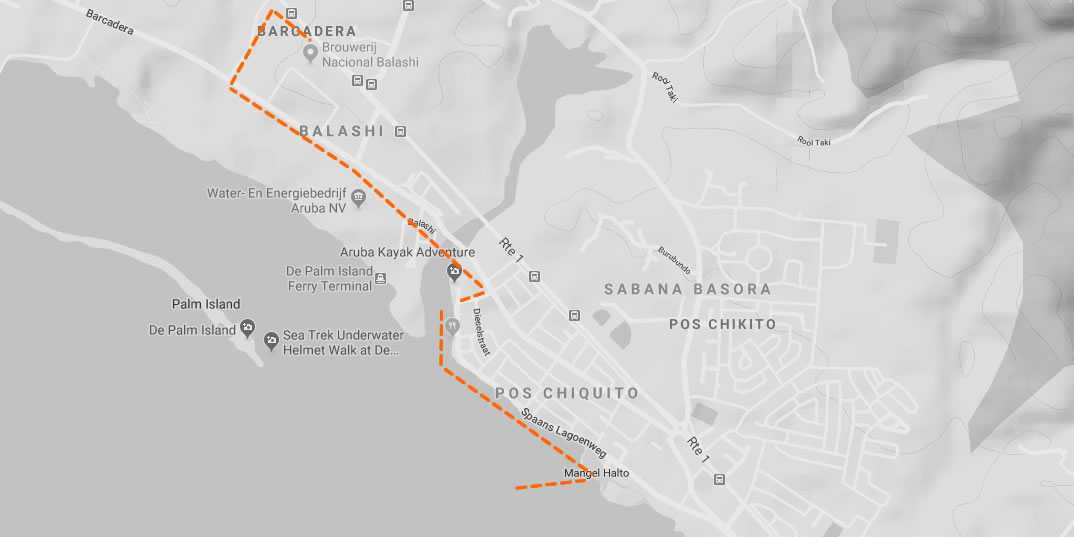 Had a great time! Coco and Sendo were fantastic guides. This was my first time kayaking but they did a good job teaching us ahead of time and I felt very comfortable that they were looking out for us. Besides kayaking we had an opportunity to snorkel. I'm not all that comfortable with water but one of the guides stayed with us "chickens" in shallower water while the other took the others out further. Lunch was ok. Our van driver Carlos was a hoot! Not only did he take care of everything but he also engaged with us, making it a fun trip!
We really enjoyed our kayak tour, snorkeling, and lunch!! Glad we were able to find this company and tour. amazing to see some of the ocean life up close and personal. Would definitely do this again and highly recommend it!
Lots of fun! The staff is amazing! Carlos is so funny and sweet. Coco and Sendo were absolutely fantastic. The kayaking was a bit tough going to Mangrove Beach, I wasn't quite prepared for that; however, the return trip was easy! The snorkeling was very good...we saw so much marine life! Sendo was a joy to watch...so relaxed kayaking, and to watch him swim and dive was something to take in....very entertaining. Coco was a great guide and he made sure everyone was comfortable and having a good time. I would recommend this for sure. The tour included lunch at the National Brewery. Chill quickly became my favorite beer....EVER!